Más productos de Allan Block
AB Fieldstone
Introducing the first Eco-Friendly mortarless concrete retaining wall system - the AB Fieldstone Collection®. Using recycled materials has allowed us to create a "green" retaining wall system that is safe for the environment and is able to use post consumer materials without taking away from the quality of the blocks.
AB Fieldstone is a multi-piece retaining wall system where each block assembly consists of a facing unit and an anchoring unit. The facing units come in different styles and series in a natural stone look. The anchoring units come in two sizes and are made of recycled materials.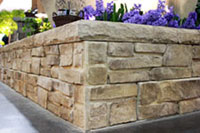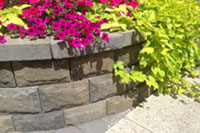 AB Courtyard
The AB Courtyard Collection is a two-sided freestanding patio wall system that has three main components plus caps - AB Dublin, AB York and a Corner Block. This versatile system provides unlimited possibilities to create outdoor spaces that are comfortable yet elegant for entertaining.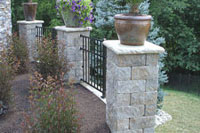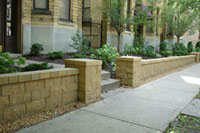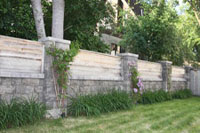 AB Fence
AB Fence is a mortarless concrete fence system that uses maintenance free interlocking blocks to create an attractive and effective solution for sound abatement, security, privacy and more. With a clean, crisp architectural look, AB Fence is sure to be the product of choice.
AB Fence uses posts and panels like many typical fence systems to construct beautiful and durable concrete structures that will stand the test of time. The AB Fence Blocks have a split-faced look on one side and striated look on the other side. This gives the AB Fence System the ability to offer many different looks and styles without having to order any special blocks. Incorporating different color blocks to form patterns or banding within the panels and posts allows for even more options.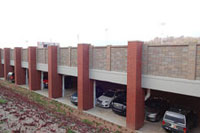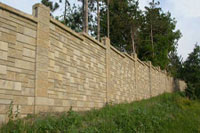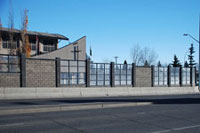 Questions and interest in any of these products can be directed to Allan Block at info@allanblock.com